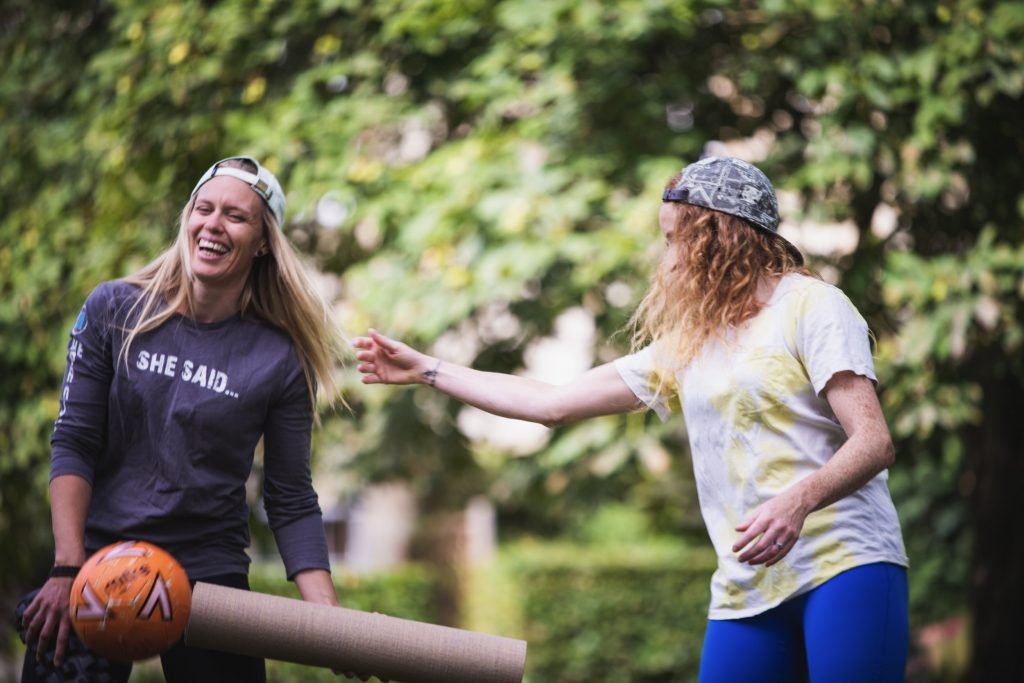 Project PT, is an Oxford-based brand founded by Ajaye and Alexa.
The brand offer a series of fitness programs and yoga retreats across Oxfordshire. They also run a yoga studio in Central Oxford and own a local gym.
Hi Ajaye, could you tell us a bit about Project PT.
I certainly can, Project PT, began with a love for exercise, specifically our love for health and wellness. We started as a personal training business- but we wanted to break barriers to the way we exercise.
This was especially for people who hold barriers to fitness whether that is being worried about judgment, feeling not deserving, the fear of not being fit- there are many things, that can be a barrier to exercising, we wanted to build something that helped these individuals overcome that and become empowered.
We initially started with running brunches out of the brewery we work with (the Tap) and then from there, we started working with schools running events and providing exercise and sports classes to create our programs.
We are also quite heavily involved with several charities in the Oxford area where we provide an extension to our events
Why are social impact and community such an integral part of your business model?
I think businesses can do and be several things- although there are many elements to being a commercial business, we just really wanted to be a part of many extension programs and just get to help the many people who are so deserving of the opportunity.
Exercise can be such a powerful thing for all of us it helps in feeling empowered and feeling mentally and physically stronger. I would say that it is such a rewarding experience to be in a place where you can help people grow and transform.
Our programs are structured to be short-term, which is great as you can be a part of someone's journey, but we also wanted to build something and quite honestly create a place for the right conversations to take place.
What advice could you give to new founders or those looking to set up their start-up or business?
I would have to say get rid of the fear of failure, which is quite a hard thing to do- at the beginning of the process, you might have friends or family asking, what if this isn't going to work?
Well, it's fine if it doesn't. Just enjoy the process is what I would say.
Much like how someone would train for a triathlon- just focus on the process.
What does success look like for you?
My success is just to do it- and surround myself with the right people. I would say an integral part of the process is to have the right kind of support around you.
In retrospect, what advice would you have for your younger self, given what you know now?
Well, I was quite young when I started my own business, I have always had this sort of entrepreneurial mindset, but I was only 20 years old and so at the time I wasn't quite sure of myself- I was very drawn to the structure and safety net of a salary, but looking back I am glad that I continued, I have met some amazing people throughout everything, I don't have any regrets at all-it is all quite honestly a part of the process and your journey.
What might you say has been most challenging, thus far in your entrepreneur journey?
The stuff that we don't know has always been a worry, as a small business you do find yourself doing a bit of everything, you're running operations, you are doing marketing, you're running the programs- you also just don't ever switch off from it ha-ha- I run this business with my wife, Alexa, and so has just become an important part of our lives.
But no, I would say it is quite challenging to grow your business and there is so much to it and to do!
What is your business mantra?
Be kind! Whether to yourself or others, just listen to what the others are saying and try to understand where they might be coming from.
Is there anything you would like our readers to know?
Yes! Please come and try out Project PT, you can find us on the High Sreet in Oxford, just below Sweaty Betty and we also have a gym on Magdalen Road, or you could even try out one of our yoga events, we would love to see you there!
Thank you, Ajaye, please find more information on Project PT here!