By Mariah Shan
New Ground Coffee is a contemporary coffee supplier based in Oxford with a chic roastery based in East Oxford, available online to buy as wholesale or as a personal subscription- you can also find them in the food hall at Selfridges.
New Ground is a key partner of the Wheelhouse working spaces in Oxford and all our coffee is made using only New Ground coffee beans, and we simply cannot get enough!
Our Wheelhouse Team member, Mariah interviews the founders below.
Although fabulous coffee and baked goods are on the menu, that is not all this hearty brand has to offer! New Ground are also here to inspire and transform through tackling social injustice, they do this by hiring ex-offenders.
I had the pleasure of speaking with founder, Dickon Morris (Joel Grates is the other half to the brand) along with head roaster, James at their lovely roastery on a sunny afternoon.
Dickon could you start by telling our readers a little bit about New Ground!
Sure, well we started about 3 years ago, in essentially our living rooms! it was myself and Joel –  both of us had solid jobs at the time but we felt unfulfilled and uninspired. We knew there was something more out there and our love of coffee quickly came to the front, we always thought that starting a roastery would be really cool, but also knew at the time that we wanted our brand to be more and we wanted to make a real difference.
From there our first 6 months, was mainly business planning and branding, and we continued to do the whole thing from our living room, we did something called contract roasting, this is where we imported the coffee but hired a local roaster to roast our beans, at the time we were selling bags to just our friends and family.
In our first 3 months we then decided to do an accelerator course on social impact for 12 weeks, and we knew tackling social injustice issues was something we wanted to be an integral part of our business model and this is what we then pitched to our investors.
That's how the name was formed actually, we wanted to essentially break 'new ground'. The double meaning was something Joel's wife had come up with, ground also being ground coffee ha-ha.
Why did you choose coffee?
Well simply put, we love coffee! and it's not just that, coffee has so many avenues to it, it's a good industry to be in – from farming, to roasting, machinery, then the tech side to the actual serving part of it. There are a lot of avenues and there's a lot to know and learn, where have these beans been sourced? what is the level of care that has been put into this? There is also room for continuous growth, which is great. There is also a nice demand for independent coffee chains and artisanal coffee also, I think people definitely expect more from their coffee now.
All your beans are ethically sourced, and you have been very transparent about your farming process, could you tell us a bit more about how you do things a bit differently?
Yes- well we are currently partnered with Olam, which is an importation company, it's been around for around 150 years and it is sourced directly from farmers. Olam ensures they pay the farmers well; they also strive to build a community around the farm, they have done some lovely things and even built a nursery for a local community. Our personal mantra has always been that if you do things with good intentions, it does come back to you, throughout our journey we have definitely felt like someone was looking out for us.
How would you describe the trajectory of your success, so far?
Well, we launched in January 2018, 8 months later we got investors onboard, this is when we then brought a Coffee Loring, which was a little scary for us at the time, financially, as they are very expensive! but it is definitely a talking point in the community as it is the best- we do aim to use the best VA machine and grinder as much as we can, we want to be up their with the best- actually we want to be the best roasters in Europe and we believe you can only do that with the best kit.
So following on from what I had mentioned, after we had found and refurbished a space, it is then that we were then able to reach out to  investors again and we were able to open a year later.
What advice could you give to newly found entrepreneurs or someone looking to start their own business like you have?
I would say pick something that you are passionate about because that's all that you will think about for the next 3 years, I would also say get the right people around you, there was no shying away from the fact that we knew nothing about the coffee industry 3 years' ago, but we surrounded ourselves with people who did and people who knew how to run a business and  how to get the right investors onboard.
The other thing I would say is to Dream big- get rid of the ceiling.
When we first started out, there was a time where we were like 'If we scraped 25,000 together and maybe secured a startup loan, we could get a start-up roaster and although it will be one the cheaper ones we could begin from there'. –  but absolutely 100 per cent if we would have done that we wouldn't still be here.
Instead we -through talking to a couple of guys, someone (now our director) asked us what we would do in an ideal world- we said that well in an ideal world we wanted a coffee Loring, he simply responded with a 'cool lets build a business plan around that'. Bear in mind that a Loring is around 100 grand, he told us not to get caught up in the price and that 100,000 is  nothing for a lot of investors and it's kind of like removing that barrier, which was was huge for us. And now for anything that seems impossible we just pitch to investors, we have shown that we are investable business. We've gotten rid of that mindset that we can only do a certain amount, the world is your oyster.
I love that, could you talk us through the offender rehabilitation program and how it works?
It has been quite a long journey, I guess we have wanted to have it running for the last couple of years, we run 12-week programs where a cohort of 4-6 people come along and by the end of the program they become fully qualified baristas and roasters, unfortunately we couldn't run any programs for a year because of Covid-19. But we have employed directly from Springfield Prison, which is a local prison, just up in Aylesbury.
We have employed guys on day release, that is guys who come work for us in the morning and then return to the prison in the afternoon, and these are guys coming to the end of their sentence. This opportunity allows them a  taste of barista training and the opportunity of earning an income, as many still have families to support back home alongside mortgages and bills to pay.
One of our current roasters was doing a 5-year sentence, he spent 3 years or so inside and learnt to roast, James, worked for 'Redemption Roaster', which was actually one of the first companies to have a roastery in Prison, he went on a lot of training courses and actually learnt how to roast inside and became a barista inside, he's quite a driven guy.
I spent the day with James in the roastery in our first 2 months and then 2 year's later we employed him, we did remain in contact throughout his sentence.
James: 'Yeah you could say I was sucked into it; I love learning about coffee, it wasn't always like that but, whilst inside we had a machine and I really started to enjoy the taste and my own tastes have definitely developed and changed- I love that coffee has many depths and it's just really fun to experiment with various flavours. Currently the Buku is my favourite, so if you're around the roastery, do check it out!'.
How does the actual process of hiring work?
Just like any other job, we put out an ad and employ directly from Springfield and run phone interviews. We have been lucky with the guys we have had; some might have not been so interested in coffee. But most of them are very driven guys and want to change their lives.
How important was this social impact part of the brand?
We really wanted to help in social injustice and specifically anyone facing barriers in working, whether that would have been refugees or ex-offenders, it really took the accelerated course for us to nail down what we could do to help, we do liken this facet of our business as the core part of who we are, the yolk of the entire egg if you have it, and the coffee part being the rest of the egg, as strange as that might sound.
Tell us about your pop-up store at Selfridges with Highsnobiety earlier this year?
Yeah, that was nuts! I received a phone call out of the blue from a buyer at Selfridges on a random Friday at 4.55pm, I was on the bus at the time and didn't actually hear my phone ring, but someone had left a message about wanting to get in contact, I couldn't get back to her till Monday so all weekend I was just like what on earth could this be?!!
When we spoke, she mentioned a pop-up store being available in their corner shop, their innovation shop, where they have lots of collabs and pop-ups, right in the corner of their busiest entrance. They had like the artist Arkle and a reconditioned Porsche in there, some super cool stuff, but we weren't actually told who our other collaborator was and then it turned out it was Highsnobiety. A huge hype brand who kind of live off collabs and have done some huge things they brought Nike and Disney together for a cool project, they've done some massive things. We then had to get everything together, all our bits of machinery and stuff for the launch which lasted about 6 weeks, we also had Prada in there with us, who were doing some stuff with Highsnobiety along with Bang & Olfsun and some other big brands in there, where they were doing a collaboration every week or so. It was quite surreal.
We still have communications with them, in fact we still supply their food hall, which is quite cool to see our bags in there.
Do you think this drew in a different crowd for you guys?
It definitely turned heads – especially in the coffee scene, over that 6 weeks, we were in Time Out magazine, Inside London and probably like 5-6 different publications and online prints, so the exposure was enormous, suddenly people were like who is New Ground, it definitely put us on the map.
If someone wanted to get involved or support what you do, could they also get in touch if they knew an ex-offender, how could they go about this?
We are always willing for people to get in touch with us to help guys get involved with our program, our next program will be up and running within the next 6 months, so please get in touch if you want to help someone you know.
But the biggest help for is also just buying a cup of coffee,  the way that our business is structured is that although we are normal trading company we have a charitable entity that owns roughly half of the business, so buying a cup of coffee from us means that half of the profits go towards the charity side of it. Telling people what we do also helps us immensely.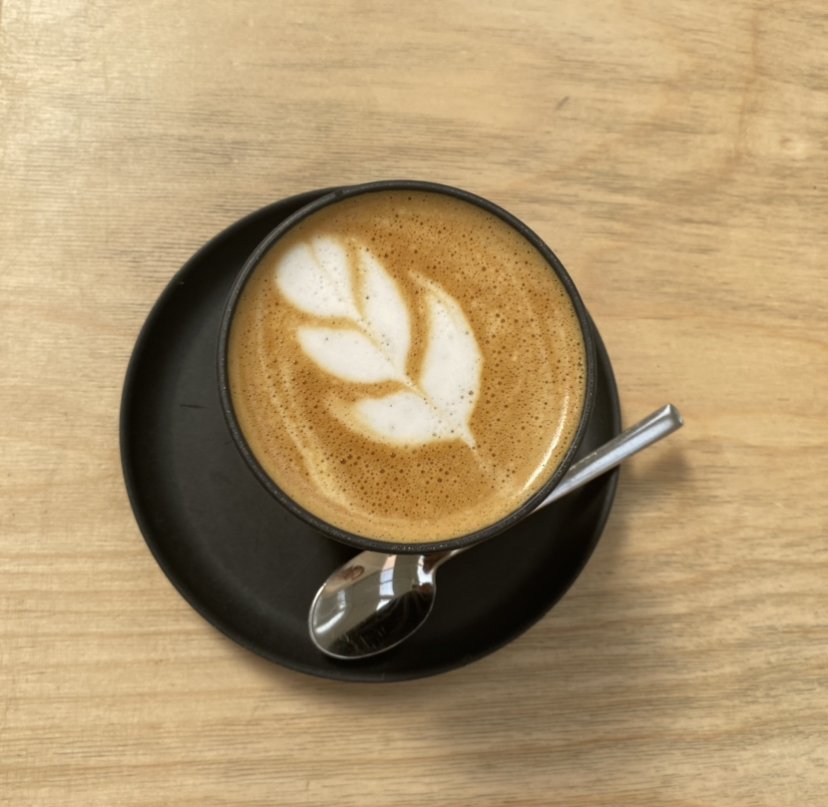 What do you think personally makes a good cup, or a good cup even better?
I'm definitely a pour over coffee guy myself, I've definitely had a lot of coffee over the last 5-10 years, but I do think a well-balanced structured cup is great, that is the geeky side of me talking- but I do also take a nice setting into account, nice interiors served in nice glassware or crockery, that would definitely make a great cup excellent.
This one might be a cheesy question but where do you see the brand in 5 years?
We would like to continue growing and expanding which means we can do more.
Do more for offenders- if you look at the statistics around reoffending they are quite scary, I think currently it is something like around 70% of people will reoffend if they do not get full-time employment in their first year of release, which is insane.
In terms of the coffee side of things we definitely would love to open up a coffee shop and if the right moment presents itself, we will.
Anything else you might like to tell our readers?
Yes, do check us out if you have not, and for returning customers we do have some new flavours you might be interested to try these are the: natural Indonesian, Buku Ethiopian Fruity and Floral Colombian.
Thank you for reading, New ground coffee is available to buy at their roastery or via a delivery subscription, it is also available wholesale which you can order through their website, they also sell the lovely plants in their roastery so do get in touch to buy, proceeds go towards a charitable organization.
Check them out here: Shop | Oxfordshire | New Ground Coffee